Murad Skincare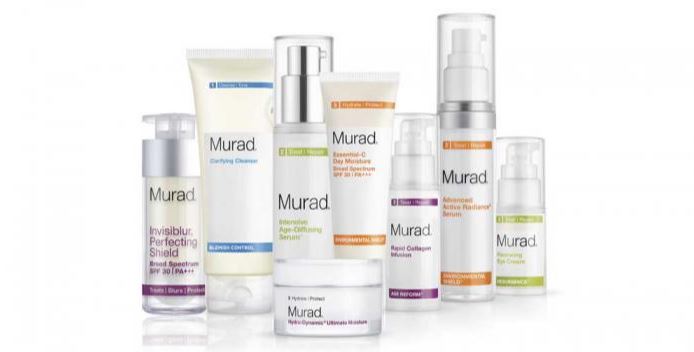 Dr Murad Facials — Dr Murad is one of the world's foremost authorities on skin health.
Dr. Murad believes that every aspect of one's health is as interconnected as every cell in the body. This philosophy, which he calls Connected Beauty, is a whole-person approach designed to help people nourish their skin with efficacious topical products, "eat" their water by consuming water-rich fruits and vegetables, awaken their body through movement and to be kind to their minds by managing the stress of modern living.
As the pioneer of the use of Alpha Hydroxy Acids in topical skin care, Dr. Murad has received numerous recognitions including being named the "Best Forward-Thinking Doctor" by Vogue, "Top 50 Men of the World That Understand Women", by The Observer Woman, and a "Beauty Genius" by Elle. He was named an "Industry Visionary" by the International SPA Association and was inducted into Dermascope magazine's "Academy of Legends.
"I have devoted my life to making beautiful, healthy skin attainable for everyone" Dr. Murad
AHA Rapid Exfoliator (60 Min) 
With a unique patented blend of antioxidants, anti-inflammatory, and hydrators this powerful treatment dramatically improves the skins texture, tone and appearance. Includes glycolic peel.
Best for; Ageing Skin.
Clarifying Enzyme (60 Min) 
This enzyme based treatment was created to reduce blemishes without redness or irritation.
Best for; Acne prone skin.
Vitamin C Infusion (60 Min)
This facial helps reverse the signs of ageing and environmental damage using the most powerful formulation of pure Vitamin C.
Best For; All skin.
Redness Therapy (60 Min) 
Formulated with ingredients that calm and cools irritated or inflamed skin, this facial heals and protects for maximum relief.
Best for; Rosacea like redness or Sensitive skin.
Resurgence Renewal (60 Min) 
This dual action mask facial intensively hydrates the skin to plump out wrinkles while lifting and firming slackened skin. It also restores hydration to give youthful, radiant skin.
Best for: Menopausal, Rough Dry or Ageing Skin.